Corfu island Greece, Grecotel Corfu Imperial

Kommeno Peninsula "Garden of the gods"

It's the island of Corfu, where Grecotel occupies the most gorgeous Kommeno peninsula, one of the most exclusive spots in the Ionian harbours. Corfu Imperial nestles peacefully in the lush scenery and pristine waters of its own private peninsula. Arriving with your private yacht direct on our exclusive Kommeno, check-in will take place direct 'on board', club car service will waiting for your private villa-palazzo transfer and the Corfu Imperial experience just started!

Corfu

Once upon a time…there was a magical island named Corfu. Once a favoured retreat of golden-era jetsetters and royalty. Now, an island hideaway on the most exclusive Kommeno peninsula of Corfu! Corfu's natural beauty lies in a richness of velvet green cypress trees; silver olive groves and mountainous skylines that plunge into the bluest of waters. Italianate architecture, golden beaches, enchanting nightlife, and fine cuisine all play their part in attracting visitors from all over the world. With a welcome as warm as the sun, the renowned Greek reputation for hospitality makes any visitor, young or old, feel more than at home.

Book Online
or Call +30 26610 88400
Don't Miss
Corfu Old Town
Announced as a Town of UNESCO, a fact of great significance.
Day-cruise to Paxos & Antipaxos island should not be missed!
Gouvia Marina, the first privately owned marina in Greec
e
(
3 kms
from the hotel)
World famous Kanoni & Mouse island (Pontikonisi) are perhaps the trademarks of the island
.
---
Why Corfu
Emerald island


•
Silver colored pine- and olive-grove
s
• An abundance of sandy and pebbled beaches line the 200 km coastline
•
Palaces of Achilleon and Mon Repo
s
• Italianate architecture, enchanting nightlife and fine cuisine
• Gorgeous Kommeno peninsula with 3 amazing Grecotel Resorts

---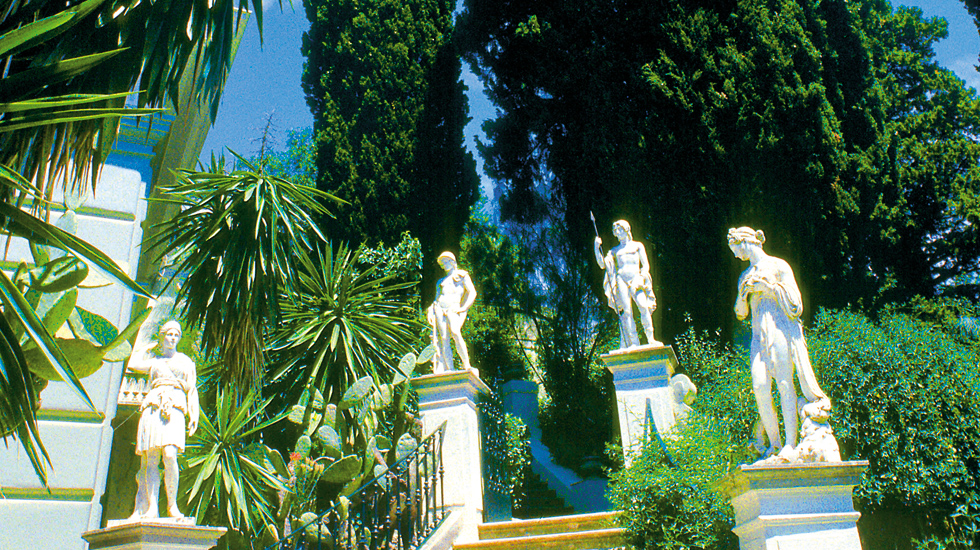 Achilleion Palace; the luxurious villa
of Princess Sissy

---